Live Music And Entertainment At Patio Bar And Grill In Deerfield Beach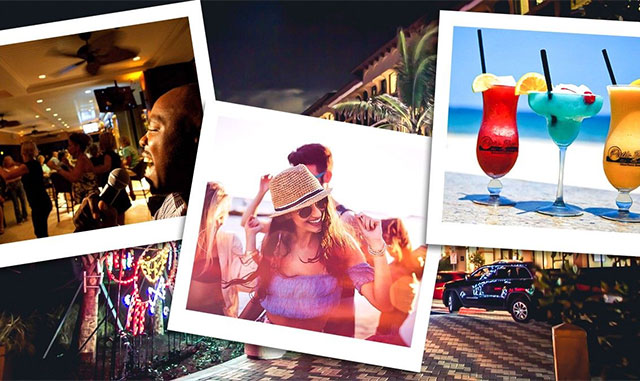 Live Music and Entertainment at our Deerfield Beach Hotel Bar
You won't have to go far to experience some of the best nightlife in South Florida when you stay at our beachfront resort. Patio Bar & Grill hosts live music every night from Wednesday through Sunday. Take a step into paradise at our Deerfield Beach lounge that serves up handcrafted cocktails and live bands just a few steps from the beach. It's a lively scene that attracts locals from Palm Beach to Miami and hotel guests from all over the country. Mix and mingle as top bands from Florida put on a fun show and the bar serves up your favorite drinks.
If you get hungry, you can order a tasty appetizer, a full dinner with a focus on seafood specialties, or a decadent dessert from the Patio Bar and Grill menu. There's no better place to have a good time in Deerfield Beach so start planning your Florida vacation today!
Fun Nightlife in South Florida Steps from Your Hotel Room
After a sunny day at the beach or a busy day of meetings, there's nothing like unwinding with a cocktail in your hand with a view of the ocean. Sip your favorite tropical drink by the pool or just relax on our outdoor deck where you can watch the waves roll in on the Atlantic. Come early for an excellent Deerfield Beach Happy Hour (Monday through Friday) to get a head start on the festivities. From 4pm to 7pm, Patio Bar and Grill features specials like a dollar off all drinks. There's no better way to kick off your night in Deerfield Beach.
As you listen to the live entertainment, you can browse the cocktail menu. Choose from creative concoctions like the Miami Vice, Blue Shark, and Mango Margarita. Other favorites include the Frozen Rumrunner, Mango Colada, and Sunset Beach. If you want to bring home a souvenir, you can ask for your drink to be served up JUMBO with a 45-ounce glass that you can keep. Find out more about our specials and entertainment at Patio Bar and Grill.
Fun Events and Live Bands in Deerfield Beach
Have you been to Patio Bar and Grill? The bar is open daily from 11am to 11pm, so you can come for an early lunch or enjoy a late-night snack with local bands. The scene really heats up on Friday and Saturday evening with live acts entertaining a mix of locals and tourists. But the fun doesn't stop at Patio Bar and Grill just because the weekend ends. Our Deerfield Beach nightlife hotspot features music from Wednesday through Sunday, so you turn your getaway into a long weekend of fun. The best musicians and entertainers from South Florida come to Patio Bar and Grill to share their talents on stage. Dance along to the music, meet new people at the bar, or just socialize with your friends for a fun night on the town.
If you want to get your groove on in the afternoon, Patio Bar and Grill hosts bands from 1pm to 5pm on Saturdays and Sundays. There's nothing like spending a lazy Sunday with your friends and family listening to great music. When the afternoon entertainment session ends, you can head to Café Med at our hotel for a delicious Sunday dinner of find Italian food.
Oceanfront Hotel Rooms and Suites near Deerfield Beach Nightlife
If going out on the town is an important part of your vacation plans, Wyndham Deerfield Beach Resort should be your first choice for oceanside destinations in Florida. With our fun nightlife venue inside our hotel, you will never have to go far for a good time. Patio Bar and Grill is your home for live music, poolside cocktails, tasty snacks, and a lively social scene.
After a fun-filled day at the beach, head back up to your hotel room and change into your favorite outfit. As you get ready for the evening, you can gaze out your floor-to-ceiling windows with an ocean view or watch your favorite program on the 50-inch flat-screen TV. All of our Deerfield Beach accommodations come with a refrigerator, iPod docks for music, and free Wi-Fi so you can tell everyone back home about all of the fun you're having. When you're ready to head out, Patio Bar and Grill will be ready to welcome you for an unforgettable time. Book your Deerfield Beach hotel room and join in the fun!