2019 Ranse Volleyball Classic Pro Am In Deerfield Beach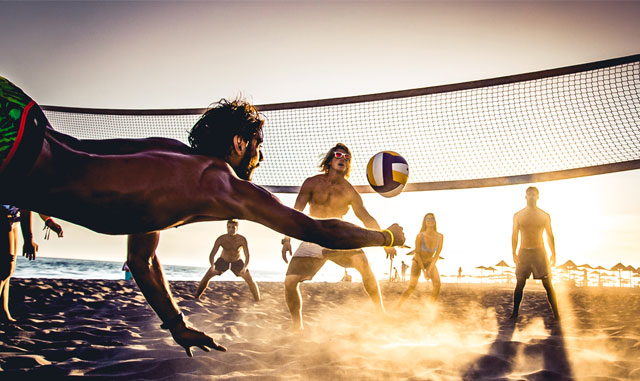 Volleyball Tournament and Annual Charity Event in Deerfield Beach
Did you know one of the most exciting sporting events of the year is just a quick walk from our hotel? The 2019 Ranse Volleyball Classic Pro Am is gearing up to thrill fans on the weekend of November 2 and 3. Don't miss out on a minute of the action in Deerfield Beach when beach volleyball players and fans come from all over the region to show off their talents. Adult and youth teams will be jumping and diving all weekend long as they compete to come home with the top trophy. Best of all, the tournament benefits an important charity that raises stroke awareness in the community in honor of Ranse Jones. To date, the volleyball tournament has raised more than $240,000. Have a good time and support a good cause!
The Ranse Volleyball Classic's slogan is "Live Simple. Play Hard." If you're ready to live up to their mantra, book a room at our Deerfield Beach resort to experience all of the volleyball action. Our oceanfront hotel is just a two-minute walk away from this fun annual event in Florida right on the beach.
Experience Exciting Beach Volleyball near our Florida Resort
South Florida is known as a coastal recreation paradise whether you want to go deep sea fishing or paddle boarding on the clear blue waters of the Atlantic. Along with the Ranse Volleyball Classic this November in Deerfield Beach, athletes and active hotel guests can enjoy endless hours of outdoor fun just minutes from their beachfront room.
Before or after the volleyball tournament, you can stroll over to the Deerfield Beach International Fishing Pier for a relaxing afternoon of fishing. It's only a $1 entry fee and $4 for those who want to go fishing. You don't even need a rod because you can rent them right on the pier. If you want something to get your heart pumping, you can go scuba diving with the help of Dixie Divers or go water skiing at nearby Quiet Waters Park. Florida is also famous for golf, so spend the day on the links or at Deer Creek Golf Course. Check out the best things to do in Deerfield Beach when you stay at our resort.
2019 Ranse Volleyball Classic Pro Am for Adults and Juniors
If you want to test your skills against the top beach volleyball players in Florida, it's not too late! Registration for teams is open until October 31 at 4 pm the week of the event. Find a partner and see how you stack up against the competition.
There are two divisions available:
Adults: Open/Pro (professional level), AAA (semi-pro), AA (amateur), and Coed teams
Fees: $53 per player (Coeds $63 team total)
Youth/Juniors: Participants must be 12 to 18 years old
Fees: $33 per player
Depending on your skills, you could wow the crowds and rise to the top during the weekend action. You never know, you may just come home with the top prize money!
Would you rather just head down to the beach and watch the action in person? Spectators are welcome to attend the Ranse Volleyball Classic. Start your day with a delicious breakfast at our hotel restaurant, Café Med, with an outdoor patio overlooking the ocean. Come hungry because you can create your own three-egg omelette with a variety of fillings or kick up the spice with a plate of Huevos Rancheros. If you love brunch, you can even add a Bloody Mary or Mimosa to your morning meal as a compliment to your getaway weekend on the beach. Check out the breakfast menu at Café Med.
Reserve a Beautifully-Furnished Hotel Room just steps from the Beach
Whether you are attending the tournament to cheer on your friends and family or participating yourself, our beachfront hotel has everything you need for a successful weekend. Before you gear up for a big day of volleyball, look out your room with floor-to-ceiling windows to check the weather. Make a fresh pot of coffee to kick start your day and get washed up in your well-appointed bathroom with a rainfall shower.
If you stay at Wyndham Deerfield Beach Resort, you can relax about getting to the tournament on time, since the hotel is right on the beach just steps from the 2019 Ranse Classic. After playing or watching volleyball all day, you can come back and share your photos with our free high-speed Wi-Fi. Grab a cold drink out of your refrigerator and relax on your plush couch if you booked a King Suite. Upload a video of your team spiking the ball or making a great save so everyone back home to can see you in action!